I am now an IPv6 Sage
[ link: ipv6-sage | tags: ipv6 | updated: Thu, 17 Mar 2011 10:37:08 ]
Long time no blog... I've been realy busy getting the Ottawa IPv6 Summit off the ground (along with several other people from OCLUG). I'll have to blog about that soon.
Anyway... I've also been learning a lot more about IPv6. Which reminded me that I never finished my IPv6 Certification from Hurricane Electric. I stopped at the Guri level because getting Sage (the top level) meant that I would have had to have a sane domain name registrar.
I actually registered ipv6summit.ca with BareMetal.com, and so I already had an IPv6 Glue record for this domain.
    # whois ipv6summit.ca
    Domain name:           ipv6summit.ca
    ...
    Name servers:
        ns.ipv6summit.ca       70.38.99.170       2001:470:1c:1cb::6:0

Anyway, long story short... I am now a Sage!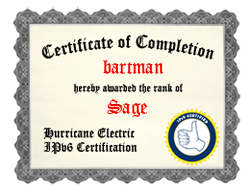 Woot!